History
Our kennel lives not far from Moscow, near the station and village of the same name. We have a forest, field and an integral part of Retrievers coutry life - pond and creek. It's such a nice place for our family. Come and visit us
We are glad to see you on our website, as well as all the guests in real life.
Our site is designed for traditional small portal canine organization. Above in the relevant sections of the menu you will find a brief history of our kennel, some information about our exhibition achievements and personal of our dogs and a small section of useful information. A special section is dedicated to our puppies. It's like beginary scool - they are the most beloved and valuable. If all of our kids went away, then you can enjoy their photo and find out a rough plan of our pedigree, we expect the next addition to the family.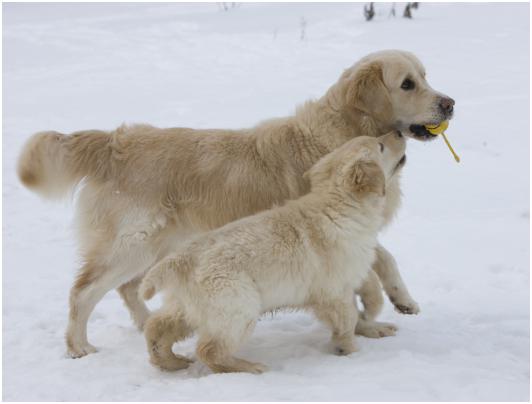 If you are looking a faithful friendship with golden retriever , we will gladly help you find the baby of a few decent kennels of Moscow, some Russian regions and foreign of those with whom we have friendship, partnership and point of view on the breed.
About that what began with golden retrievers in our life is described in detail in the article on our older - Boss. All started with it - and move out of town and thinking about the second dog and exhibitions and ........
На этой страничке я позволю себе порасуждать о том как я пришел к идее создания питомника и как она воплощается в жизнь. Многие, возможно, приходят к этому другими путями, а кто-то , вероятно, прошел путем, похожим на мой
On this page I will allow myself porasuzhdat about how I came to the idea of ??establishing a nursery and how it implemented. Many may come to that in other ways, and someone probably went through, like my
So first was the boss and had no plans to expand the flock .. There have been more true cat-cat-Musya and Ball, but the topic is not the case. Bosya! Yes, except for the fact of its existence it has played a leading role in the appearance of Leo. The formula is simple - dog needs a partner for communication and play - and now two. But not at first appearance of two males and Lesia Bosi, and then dechonok Mercy, and Sony and did other considerations and circumstances led us to the nursery and the birth of first baby ....
From where it all began ... Just was wondering - if I can handle myself with the fact that others have experts consider very complicated, difficult task. Yes, I have decided to put his dogs himself. I reasoned primitive - "I love them very much and they told me, well, how can we not agree!" And sure enough - despite the large number of small and gross errors - it's gone. We started to win - not always, of course, but to win, and it was fortunate for us all - people and dogs. The next step was the development of primudrostey haircut dogs and exhibition pogotovki. Prior to that, the word "grooming" for me was synonymous with the word "magic." However, this science was quite feasible for us.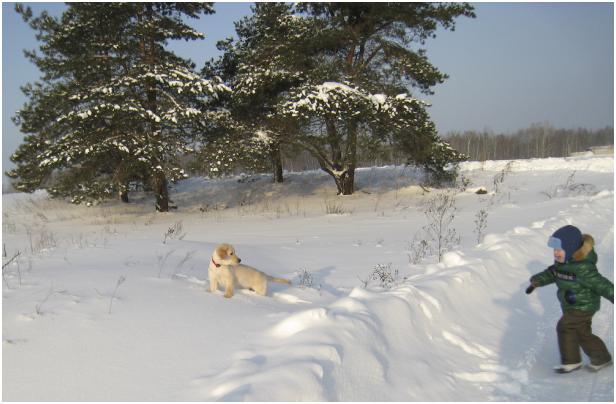 And the natural result - we realized that all this is the basis for forming their own understanding of "right" Golden .... Now we hope that our breeding dogs, those which become fluffy balls that frolic now as a puppy kennel will be a little closer to our ideal than their amazing parents!
In conclusion, a paraphrase of the title
Probably some combination of words into English and other "foreign" style perfectly suited to the dogs of our breed and would add solidity and "Western" moniker, but .... We live here in the town of Forest, but not in Italy or the UK, so too are called let our children with pyamyatnym tabs "from the Forest Township" ... And as a difficult to (that's a word that!) For foreigners, so it's nothing - get used to ... If only the dog liked
Well, a few formalities - "Forest Town" - the official kennel of the International Canine Federation (FCI) and the Russian Canine Federation (RCF).
---